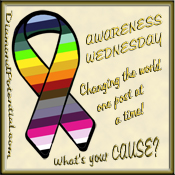 Holly,author of
Diamond Potential
has an awesome Awareness Wednesday Hop where bloggers have the opportunity to 'Change the world one post at a time'.

One of the reasons I started my blog was to bring awareness to parents of public school options and to provide
resources
and user friendly sites to help parents make informed decisions about their child's educational path.

My story goes like this…

All three of my children began their education in a public brick and mortar, year round school. My oldest son completed the 6th grade, K-5 in an elementary school and 6th in a middle school, my younger son completed the 3rd grade, and my daughter was enrolled in kindergarten for nine weeks. This setting was not a good fit for my daughter, mostly because of the boredom she experienced in the academics being taught, so I began looking into other options.

My first thought was traditional homeschooling, so I reached out to several of my homeschooling friends and listened and learned firsthand about how to get started, how to and where to send my letter of intent, purchase curriculum, and what a day of homeschooling actually looked like. I attended several curriculum fairs, learned about homeschooling resources, and the wealth of support systems that are available, but the more I thought about it the more anxious and uncomfortable I became with being so completely accountable for my child's education.

I have much admiration and respect for my homeschooling friends. I recognize the time and effort it takes to prepare and provide a traditional homeschool setting that works.

There are so many benefits to homeschooling: the individualized learning approach, the safe environment, the flexibility, the ability to school at your own pace, and the list goes on.

I wanted all of those benefits but 'I' needed a different accountability system.

I was very uneducated about what options were available and I have to admit that I was a bit scared.

Not knowing can be a scary thing.

BUT, I kept looking and looking until I could find somethingthat worked for my 5-year old daughter and my family with my younger son in public elementary school and my older son taking a bus to middle school.

I remember a mom from my son's baseball team talking extensively about
Colorado Virtual Academy (COVA).
During my daughter's 3 week track off from her year round school I researched and attended a COVA parent info session with my daughter. During this info session my daughter and I delved into this fabulous core knowledge curriculum, listened to a power point explaining this unique model of education, and asked many questions; we were both hooked!

That school year I learned so much about the educational opportunities and
benefits
our online public charter school offered. The following school year I enrolled both of my boys in this model.

We are now beginning our 7th year with COVA and I am happy to say that all three of my children are thriving. They are learning with an individualized learning plan through a rich core knowledge curriculum that makes learning come alive. We have Colorado licensed teachers that are highly qualified, as well as a professional and experienced administration team.

I want what every parent out there wants and that's the best possible education for my children.

I have found a public school option that works for our family and has exceeded all of my expectations in providing a world class education for my children.

I'm very passionate about bringing awareness to parents about public school options.
It's so important to know what other options are available when the traditional public school, usually the nearest neighborhood school, doesn't fit a child's needs.

Years ago we didn't have the educational options that we have today.

As a matter of fact, in the year 1998 when my oldest began kindergarten, online schools were scarcely heard of and charter schools were just starting to spread.
Choice in Education is a valuable tool that will help our children be successful in life.
A great place to start to find out what's available in your state is to check out the National Coalition for Public School Options website.
And if your state doesn't have the public school option that you're looking for, check out Parent Power in Georgia to see how passionate parent advocates made a difference.
I thank Holly for her blog hop and her Awareness Wednesday and for the opportunity to link up in the hopes of helping to make a difference one post at a time.